NYQS Meeting, September 4, 2005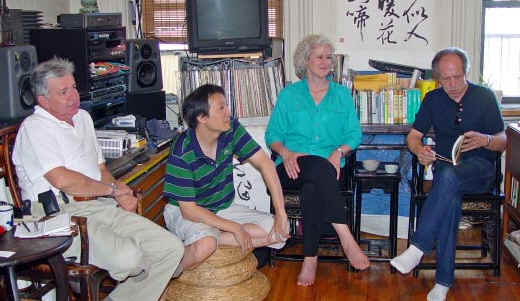 Peter, Jung-Ping, Rebecca listen as Stephen reads Wu Zhao's new qin book.
John holds an attentive audience.
On 4 September 2005 the following members of then New York Qin Society (NTQS) attended a Society meeting in the home of Yuan Jung-Ping: Yuan Jung-ping, Chang Pei-you, Stephen Dydo, Matthew Flannery, Bo Lawergren, and John Thompson. Guests were Rebecca Flannery and Peter Reis.
The group welcomed harpist Rebecca Flannery, sister of member Matthew Flannery, and her husband Peter. Rebecca played duets with Yuan Jung-Ping the Society's meeting on 27 April 2005 (present secretary was then in China). They have plans for future combined events, and Jung-Ping proposed that Rebecca be accepted as a member in the Society. Since many members were unable to attend today's meeting, it was decided to use email to vote on her prospective membership.
Members then gave reports on their activities.
Yuan Jung-Ping
Jung-Ping showed repairs that were done in Taiwan to his Song dynasty qin. Since the last meeting he has spent a considerable amount of time in Taiwan and mainland China. He had several exhibitions of his calligraphy and sold quite a few works. He visited the Deyin Qin Society in Hong Kong, the Nanjing University Qin Society in Nanjing, and joined gatherings with qin players in Suzhou (in one of the famous gardens) and Beijing. Near Loyang he visited the Longmen grottoes, a famous Buddhist center, and in Shanxi he went to Pingyao, the Yungang grottoes near Datong, and Wutai Shan, another mountain range famous in Buddhism. Jung-Ping reported that Nanhua University in Taiwan has been particularly active in qin activities, having invited Cheng Gongliang, Ding Chunyung and Wu Zhao to each spend a semester there teaching.
In Qingdao, Shandong province, Jung-Ping was invited by the department of traditional Chinese music to give a qin lecture demonstration. The department liked this so much that they invited him to start a Qin Research Center within the department. Because of this he is scheduled to return to Qingdao in mid-September for a couple of months, then return again to Qingdao in February next year. One noteworthy aspect of this program is that it will be (since the Cultural Revolution) the first guqin program at a Chinese University to teach using silk strings. Jung-Ping says he has found funding for this program from various sources, but is looking for more. He hopes he can arrange some events involving members of the New York Qin Society.
Jung-Ping shows repairs to his qin.
John Thompson
John had a trip to China in June that was cut short when his wife Suzanne's mother had a stroke. He first spent a few days in Hong Kong visiting friends, then went to Xi'an. The plan was to go from there to Yunnan, but because of the stroke he went to Beijing, via Zhengzhou (Henan province), then back home.
John has been arranging qin melodies into various potential programs, and so in Xi'an and Zhengzhou he was looking for connections to qin melodies. He put the results of this on his website at http://www.silkqin.com/01mywk/themes/areas.htm (Areas and Specific Places). He commented on several possibilities observed during his visit.
While visiting Xi'an he went to Louguantai, a famous Daoist center about 40 km southwest of Xi'an. Laozi is said to have passed through here while departing from the normal world; before leaving the gatekeeper persuaded him to stop and write down what was to be the Dao De Jing. A Daoist morning lesson that consists of paraphrases from sections of the Dao De Jing forms the lyrics for the qin melody Qinjing Jing. John found these lyrics inscribed on the side of a building at Yuquan Miao, a temple at the bottom of Huashan. Huashan, the western of the Five Sacred Mountains, is about two hours east of Xi'an. The Yuquan Temple, near the main entrance, is dedicated to the famous recluse Chen Tuan. Here, in addition to the text for Qinjing Jing, are some relief carvings that include qin players. The beginning qin melody Xianweng Cao honors Chen Tuan.
Melodies such as Weibin Yin, Shi Xian, Da Ya and Feng Lei Yin all have themes related to the foundation of the Zhou dynasty, which had its capital at Haojing, now just west of Xi'an. Other melodies such as Han Gong Qiu, Han Jie Cao, and Han Gong Qiu concern Han dynasty personages connected to Chang An (Xi'an). Yangguan Sandie sets to lyrics the famous poem Wang Wei wrote for a friend departing from Chang An for the remote west. The setting is Wei Cheng, then a suburb of Chang An on the Wei River; from here people would go upstream on their way west. Unfortunately no one seems to know quite where this place was.
From Zhengzhou John did a one day trip to Song Shan, the central of the Five Sacred Mountains. Here there was only time to visit the area around the Shaolin Monastery. This is the most commercial area on the Song Shan range: a trip by cable car up to a nearby peak was marred by the constant noise from another cable car building of Buddhist chant accompanied by synthesizers played at loud volume over speakers of poor quality. There are quite a few qin melodies associated with other parts of the Song Shan range (Yao Tian Sheng He, Pei Lan, Kongtong Wen Dao [some books say Kongtong Mountain was part of same range that includes Song Shan]), as well as with other regions such as the old Chinese capitals of Loyang and Kaifeng, and the Bamboo Grove in northern Henan, connected to the Seven Sages.
In Beijing John had time only for a brief visit with Wang Peng, from whom he collected a He Mingwei qin that had been very nicely repaired, and a trip to the Zhongguo Shudian (China Bookstore) in Liuli Chang. Zhongguo Shudian has been reprinting old qin handbooks; all those listed on their website (http://www.zgsd.net/ and search for "qinpu" using simplified characters) were available for purchase.
John has two programs coming up. From 6 to 10 October he will be at the Tartu Early Music Festival in Estonia. One half of the program Music from the Time of Marco Polo will have John playing melodies apparently as found in Hangzhou at the end of the 13th century; then the European early music group Fa Schola will play music Marco Polo might have heard back in Italy. John will also play Evening Melodies for Qin at 11 PM in an old church. Then on November 6th he is scheduled to play melodies connected to a Chinese art exhibition taking place at the Williams College Art Museum in Williamstown, Massachusetts.
Chang Pei-You
During a family visit to Taiwan in June Peiyou went to the Zen Art Gallery in Taipei for a meeting of the Yingzhou Qin Society (http://zenart.hijump.hinet.net/), which regularly gathers there. Here she saw a qin made about five years ago by Ma Weiheng, who is from Yangzhou and specializes in making antique-looking qins. For sale at about $2,400, it originally had an inscription, copying one that can be found on Lu Wang qins. However, Li Yun, the wife of Chen Qingcan (the Chens collect only qins by Ma Weiheng), thought this inappropriate and removed it. Peiyou later saw a qin made by Chen Guoxing of Taiwan. It was on sale for about $1,000, but she thought it did not sound as good as her Wang Peng qin.
Peiyou originally learned Yi Guren from the recording of Wu Zhaoji's rendition, but in Taiwan she was told that in the recording Wu Zhaoji differed in a number of places from the original tablature (published in 1937 by the Jinyu Qin Society, as played by Peng Qingshou based on tablature in the Liqinxuan qin handbook.). So she then listened to recordings by other players and modified her own version, paying special attention to the tablature in Wu Zhaoji's qin book (Wumen Qinpu, p. 62; it has number notation above the original tablature), and the tablature with staff notation in Guqin Quji (Vol. 2, p.116), which follows the interpretation by Gu Meigeng.
Matthew Flannery
Matthew reported that his son Ming studied Chinese this summer in the Middlebury College Language Program. He is currently angling towards a political science major at Swarthmore College. Matthew, meanwhile, is set to retire October 1.
Stephen Dydo
Stephen went to London this summer for qin workshop organized through the Asian Music Connection and the London Youlan Qin Society (£250 for eight days). The qin player and maker Zeng Chengwei was being brought over from Chengdu, so Stephen and Jim Binkley in Portland had lobbied for there to be a focus on qin making. At the last minute Jim couldn't make it, and in the end only one of the eight days was devoted to qin making. However, Stephen found this quite edifying. Zeng Chengwei explained the qin making process, starting with looking for an appropriate tree and ending with putting on the strings. He had divided a qin into its various parts, which he then proceeded to put together, showing very clearly how it was made. Zeng, who is about 50, began making qins in the 1980s, and apparently has only used metal strings as a model.
Zeng Chengwei (with Christopher Evans as the primary interpreter) also talked a lot about the Sichuan School of qin playing (Shu Pai).
Stephen says the London Youlan Qin Society is largely the work of Julian Joseph, under the aegis of his qin teacher Cheng Yu (also a noted pipa player). Julian does most of the organizing, and people just show up. There are no membership dues. Because Julian is very enterprising, the Society has managed to remain very active.
Stephen also took part in an Asian music festival at the Hammond Museum in North Salem, New York (http://www.hammondmuseum.org/). The museum has a beautiful Japanese Stroll Garden. Here he played his electric qin together with the pipa player Hou Guichi. During the qin section Hou strummed along in accompaniment, and during the pipa section Stephen added a sort of obbligato. Stephen added that this was the first time they have done this together, but they plan to work at it more. An initial difficulty was that the qin was tuned basically to C, while the pipa was tuned to D). One advantage of the electric qin was that Stephen was able quite easily to raise the tuning of the qin from C up to D.
Bo Lawergren
Since his "retirement" Bo has continued his non-stop activities. In June he went to Lisbon to talk about music as depicted in some ancient Japanese Buddhist paintings. A particularly interesting aspect of the 20 or so paintings was the rather strange depictions of a harp: strange, because from the pictures no one has been able to figure out how it was played; quite likely it is a sort of fantasy harp. Most of the other specialists spoke about plainchant.
After this Bo went to Seoul, where he took part in a three week workshop organized by the Korean government introducing Korean music to invited academics. Featured was a lecture by Korean music specialist Robert Provine (University of Maryland). Provine spoke of the beauty of Korean music, but of this difficulty of making it familiar to Western audiences. A major problem has been that Korean scholars have not often taken part in international music conferences, and as a result their methodology has often been questionable. During the workshops Bo studied the kayagum zither (related to the Chinese guzheng).
Bo also met musicologists during a visit to Tokyo.
Some time ago Bo sent several of his articles on the early history of the qin (translated into Chinese) to the expert Zheng Mingzhong in Beijing. Six months later he received a response which, to Bo's regret, didn't directly deal with the issues Bo mentioned in his article. Bo's articles presented his conclusions that, based on analysis of the instruments found in southern China and the tuning pegs found all over China, the modern qin developed out of longer and larger zithers that had gradually become smaller and had fewer strings. Rather than respond to the voluminous evidence compiled by Bo, Zheng simply repeated traditional arguments about the qin developing from a five string instrument first invented in the mythical Xia dynasty.
There followed some discussion about tuning pegs, tuning keys and key collars (a sort of braidable cord used on some early harps and still on the Burmese harp and some African kora). Bo's studies of these various tuning devices have provided important clues to the histories of various stringed instruments.
Rebecca Flannery
Rebecca, a graduate of SUNY Stony Brook and the Yale Music School, has developed an interest in the qin through her brother Matthew, by attending several meetings of the New York Qin Society, and through her experience of playing duets with Yuan Jung-Ping. For their performance at the meeting in February she used a small French lever hard designed to play traditional Breton music; it has strings made of wire and carbon fibre. It has a very gentle sound, and so it was possible to play with a volume similar to that of the qin. In fact the color of the two instruments was very similar. The question then arose whether this was good, or whether the harp should seek a more contrasting sound. The two instruments would need to play together very often if the contrasts of the two instruments are to be brought out.
During the summer Rebecca attended a harp festival in Ireland. Here there was a Chinese harp called by the traditional name konghou, but it was more like a modern Western harp, called shuqin (vertical qin) in Chinese. Rebecca's husband Peter then talked a bit about the strings used on Irish harps (traditional ones use brass, but originally they were bronze). In March and April they will be making a trip to Japan and China.
General topics
Jung-Ping then brought up the issue of what was originally planned as the Annual Meeting, but which has long been delayed for lack of a venue. Some of the potential locations were again discussed, such as the Rubin Museum, Queens Library, and China Institute. Jung-Ping expressed frustration at the difficulty of finding a venue, as he had found no problems finding suitable sites for such events when he was in China and Taiwan. He suggested we should propose an appealing topic, such as the Tang dynasty. There was then some discussion about a seminar on this topic that Rembrandt Wolpert is apparently organizing for Washington, D.C.
This section of the meeting ended with the determination that Matthew Flannery, with the assistance of Stephen Dydo, would be in charge of events while Jung-Ping was in China.
Qin Play
1. John played Han Jie Cao and Li Ling Si Han, both from Xilutang Qintong (1549). Both concern Chinese people who, during the 2nd c. BCE, had to spend a number of years in captivity among the Xiongnu of what is today Mongolia. The creator of the melodies seemed to be trying to give the melodies a flavor that people then associated with those regions.
2. Peiyou played Yi Guren. Originally she learned this melody from a recording by Wu Zhaoji. She played it today following the revision she had made by listening to recordings by Cheng Gongliang and a player from Hong Kong.
3. Stephen playing Qiu Sai Yin, which he also learned (with help from Jung-Ping) from the Wu Zhaoji recording. The earliest surviving version of this melody can be found in Wuzhizhai Qinpu (1722); it is also sometimes called Shuixian Cao or Saoshou Wen Tian.
4. Jung-Ping ended the meeting by playing Pingsha Luo Yan.
As members left, Stephen congratulated us for keeping within the six hour time limit decided for meetings: the meeting began at 2 PM and ended at 7.45.
John Thompson, Secretary

Copyright © 2002-2006 New York Qin Society. All rights reserved.