Main Menu
選 項
Year 2000
Year 2001
Year 2002
Year 2003
Prof. Rembrandt Wolpert and Prof. Elizabeth Markham speak about their work in early Chinese music.


Date: 31 May 2003
Time: 6:00-11:00PM
Place: John Thompson's house, New Jersey
Minutes: John Thompson
Attending: Yuan Jung-Ping, Pei-you Chang, Stephen Dydo, Matthew Flannery, Marilyn Wong Gleysteen, Bo Lawergren, John Thompson, Mingmei Yip.
Guests: Elaine Sheng, Suzanne Smith Adolovni Acosta, Rembrandt Wolpert, Elizabeth Markham, Ingrid Furniss, Kazuko G. Stone, Gina Barnes, Bob.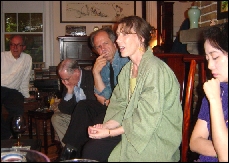 Elizabeth Markham spoke.
Rembrandt Wolpert
John Thompson, Rembrandt Wolpert, Matthew Flannery, Stephen Dydo, Elizabeth Markham and Mingmei Yip at John Thompson's house.
Events:
I. Due the large number of guests, discussion of business gave way to drinking of wine and eating of food.
II. Bo Lawergren brought three guests, who each gave an introduction to their research projects.
Prof. Rembrandt Wolpert and his wife Prof. Elizabeth Markham spoke about their work in early Chinese music. Both were students of Prof. Laurence Picken, who began the Tang Dynasty Music Research Project (TDMRP) at Cambridge University, England, in the 1950s. He tightly controlled the direction of this work, which was undertaken by him and, after 1972, students who focussed in differing areas of the project. The students, besides Rembrandt and Elizabeth, were Prof. Allan Marett (now at the University of Sydney, where he is working more in aboriginal music but has plans to return to the project); and Jonathan Condit (author of a book on the Korean aspects of this research; he left this work and joined a Hindu-Buddhist offshoot started by Adi Da Samraj). Also involved in the project at an early stage was Yoko Mitani from Japan, who has since passed away. Later Prof. Noel Nickson in Australia worked on modal issues and Allan Marett's student Stephen Jones, who lives in Japan, has also been active.
Peiyou Chang, Elaine Sheng, Kazuko G. Stone, John Thompson and Adolovni Acosta.

The TDMRP studied the written documents connected to Japanese court music, gagaku (in Chinese, ya yue, elegant music). According to Japanese tradition, gagaku preserves music from the Tang dynasty court; and the part of gagaku called Togaku (Tang yue, Tang music) preserves Tang dynasty court music. The problem is that this Tang dynasty music reportedly comes from all over: Southeast, South and Central Asia, as well as China and Korea. However, it all sounds like a coherent genre, with slow and thick textures; and the duration of performances today is much longer than what is allowed by Japanese descriptions of 1,000 years ago.

One important source is some manuscripts for pipa compiled in Yangzhou and in 838 CE brought to Japan by Lian Chengwu for his student Fujiwara no Sadatoshi. Copies have been preserved in Japan. Tang dynasty manuscripts preserved in Dunhuang have also been important.

Several compendia with direct information on the early performance of this music have survived in Japan. Most important, both for size and quality, are two12-scroll compendia (one for pipa/biwa, one for zheng/gakuso) published by Fujiwara no Moronaga in the 12th century C.E. Their contents are as follows:

Scroll 1: music theory (quoting Chinese sources)
Scroll 2: solo preludes for either pipa or zheng
Scrolls 3-4: saibara: Japanese folk songs set to pipa or zheng
Scrolls 5-11: Togaku: music from China, organized into mode families
Scroll 12: Komagaku: music from Korea, including perhaps the oldest music, coming through Korea from early or pre-Tang China.

Direct study of these materials reveal a music quite different from that played by the gagaku ensembles. Only a fraction (perhaps 10%) of the notes played today are actually written down. If these written notes are played with appropriate speed the result is music which sounds like Chinese music (or other non-Japanese idioms).
Marilyn Wong Gleysteen, Elizabeth Markham, Rembrandt Wolpert and Stephen Dydo.

The TDMRP thus concluded that the written sources of the gagaku repertoire were the original music, which had gradually become more and more ornamented until the ornamentations became the melodies. Their conclusions have since been reinforced by the discovery and transcription of other early Japanese music, such as Buddhist chant and Japanese folk songs in the court repertoire (saibara).

To date this work has been published in the series Music from the Tang Court, now up through Volume 7. Prof. Picken kept close control of this work while he could, however, he is now no longer able to continue it. The main force behind the project now is Professors Wolpert and Markham, who in 2000 were brought to the University of Arkansas to continue and expand this work.

The University of Arkansas became involved because the famous Boston opera director Sarah Caldwell also had a passion for early Asian music. First she helped set up the Early Asian Music Preservation Project at the Library of Congress. She then persuaded her alma mater, the University of Arkansas, where she is also a professor, to create two music positions so that Professors Wolpert and Markham could focus on their work for the TDMRP.
Elaine Sheng, Bob, Peiyou Chang and Kazuko G. Stone.

While Professor Wolpert's own specialty within this project has been work on the pipa scores, that of Professor Markham has been voice (Marett worked on flute, Condit on zheng). Her work is published in her books Japanese Court Songs of the Heian Period, Volumes 1 and 2. Many of these songs were mentioned in such early Japanese novels as the Tales of Genji. These songs were always thought to be exclusively Japanese. However, a comparison of some of these saibara with the saibara scores of the gagaku repertoire has shown that some of them may have had Chinese origin. Japanese scholars still argue that gagaku as played today is Tang dynasty court music. However, the Prof. Markham's saibara research provides some of the strongest proof of the TDMRP interpretation of the gagaku scores. Her work with early Japanese shomyo (Buddhist chant) scores also reinforces the TDMRP interpretation.

As overall director of the program Prof. Wolpert is now most concerned with expanding the project to include other disciplines and repertoires, such as organology and iconography, as well as poetry, painting and the qin.

The Togaku repertoire came from Tang dynasty banquet entertainment music (not ritual music). Prof. Wolpert believes that multi-disciplinary research will eventually lead to performances of this music which can be supported by valid academic research. Already performances have taken place in China and at the Library of Congress (which featured such performers as Wu Man on pipa, Chen Tao on flutes, Yao Ann on zheng, Liu Qi on sheng, and Gui Ping as singer).
Ingrid Furniss spoke.

Ingrid Furniss spoke about her research topic at Princeton University, where she is doing a Ph.D. in Archaeology under Prof Robert Bagley (who wrote the article on bell chimes in Music in the Age of Confucius [Washington 2000]). Ingrid's topic is String Instruments of the Zhou Dynasty. For her thesis work she will be looking at the archaeological context of the instruments. She plays the viola and has considerable experience in chamber music, but now is keen on learning the qin and zheng.

III. After a dinner break there was qin play.

John played Yin De (1425) and Qiujiang Ye Bo (1614). The melody of the latter is clearly based on that of the former, and John discussed some of the modal changes and their implications for understanding music published in the Ming dynasty. He also played Feng Qiu Huang (1549), with lyrics attributed to Sima Xiangru (ca.170-117), and two versions of Zui Weng Ting (1539 and 1571), singing the lyrics attributed to Su Dongbo (1036-1101).

Mingmei played Pu'an Zhou, Changmen Yuan and Meihua Sannong. Peiyou played Xiao Xiang Shui Yun and Marilyn played Yi Guren.
John Thompson.
Mingmei Yip.
Peiyou Chang.
Marilyn Wong Gleysteen.
This issue photo by Jung-Ping Yuan.

Copyright © 2002 New York Qin Society. All rights reserved.